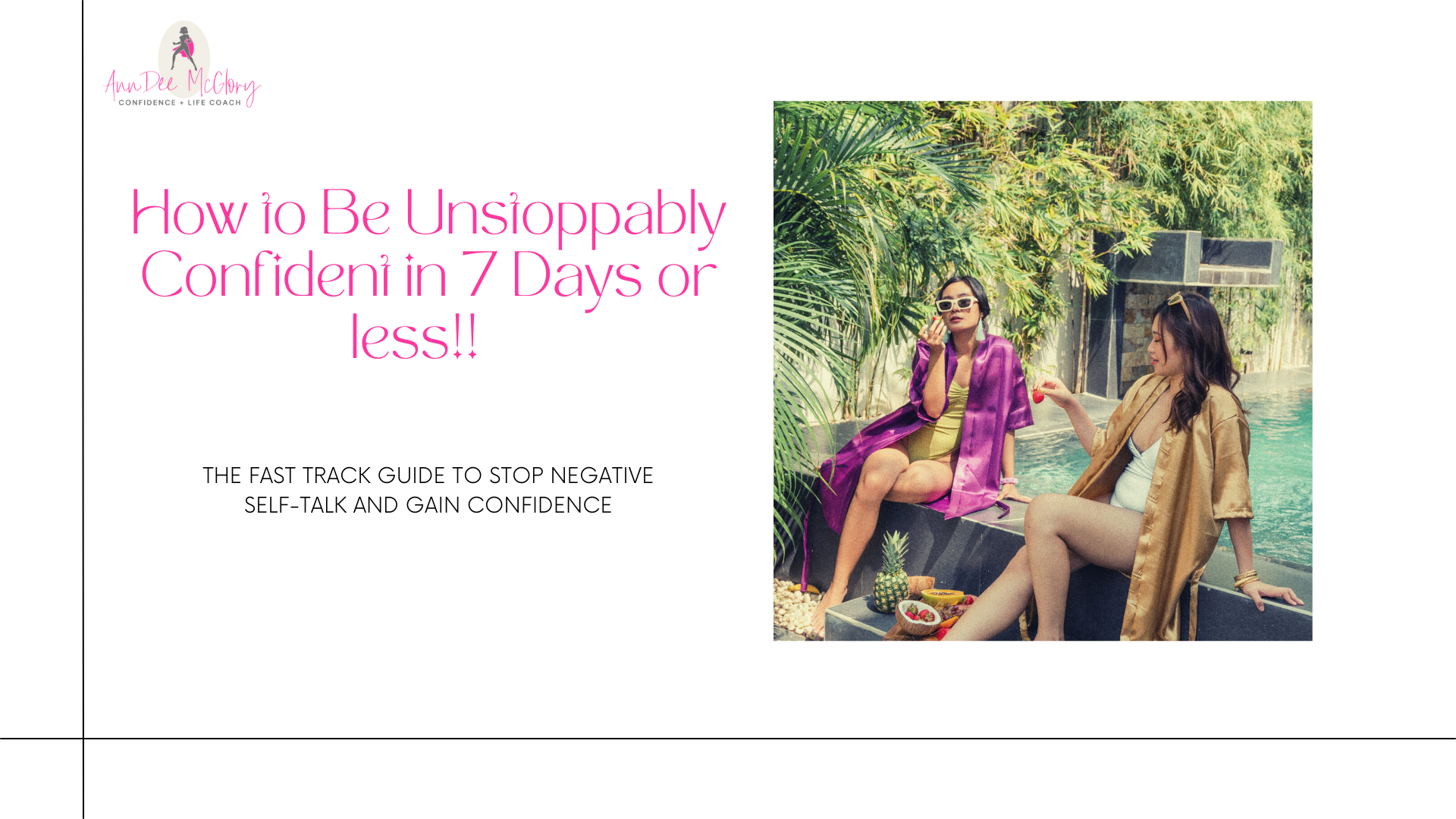 A SELF-GUIDED LESSON FOR WOMEN WHO WANT TO WALK INTO ANY ROOM WITH UNSTOPPABLE CONFIDENCE
BELIEVE IT OR NOT, I HAVE BEEN EXACTLY WHERE YOU ARE RIGHT NOW

.

I can remember sitting with a group of women with so much to say but terrified to say it, comparing myself to others as I scrolled through social media, losing sleep because I thought I wasn't smart enough, pretty enough, successful enough, or good enough. IT. IS. EXHAUSTING.
THE CRAZY THING IS…
When I wasn't scrolling or spending time comparing myself to others… I actually had confidence!
How do you become confident in WHO you are?

How do you walk into a room with an easy confidence that glows?

When do you know you have true confidence vs. fake confidence?

How do you know what confidence feels like?

How do you become unstoppable?
YOU PRACTICE!!!
Yep, it's that easy girlfriend. Confidence is not a naturally engrained trait, it's a daily practice.
A VERY SIMPLE AND EASY PRACTICE!!
Spending your time scrolling Instagram photos, putting outfits together, and watching makeup tutorials is not the way to confidence.
Once I learned what confidence is and how to practice confidence, I became UNSTOPPABLE!
AND…SO. WILL. YOU.
IF:
You are ready to stop feeling ugly

You are exhausted with comparing yourself to others

You don't like your reflection in the mirror, but you don't know what to do about it

You feel your confidence was lost after a divorce or breakup

You want to be happy but don't know where to start

You want to show up confident to attract your ideal mate or dream job

You want to stop the negative self-talk and start living an empowered life
THEN THIS LESSON IS TOTALLY FOR YOU!!!
BY THE END OF THIS SIMPLE AND EASY TO FOLLOW SELF-GUIDED LESSON, YOU WILL KNOW:
What confidence is and how to get it

How confidence & happiness are VERY different

How to be BOTH confident & happy

How negative self-talk attracts the wrong people into your life

How to get to know & love yourself (HINT: This is the #1 way to confidence)

What empowered actions to practice daily

How to be unstoppable
…and more!!
What are you waiting for?! Today is the day you finally say YES to YOU!!
"How do you get confidence anyway??"
The Daily Confidence Journal gets you started with the basics of becoming confident.
This journal shows you:
Ways to focus on your positive abilities or qualities.

What confidence is and how to achieve it.

How to achieve weekly goals.

What self-care is and how to schedule it.

Ways in which you are already confident and capable.
…and so much more!
Having confidence is A LOT easier than you think!
This journal is a simple and easy path to having the confidence you deserve!!